Realising that your MOT test is due can be a bit of a pain, but this is a government-enforced test that ensures all the vehicles on our roads meet road safety and environmental standards. Here, we will answer the most frequently asked MOT questions, and explain the whole MOT test procedure. Knowing how MOTs work from the garage's perspective should make you much more likely to pass!
Firstly, what is checked on an MOT test?
Let's start at the top! Here is a list of all the items checked during an MOT test.
Lights: 
Your front, rear, fog, brake, registration plate and indicator lights and rear reflectors must all be in a good condition, not obscured and positioned correctly.
All lights must show the correct colour (having a slight blue tinge to your headlights is classed as acceptable as long as the predominant colour is white), they must illuminate with a single operation of the switch and must not be affected by any of the other lights.
Lights that are paired such as headlights and brake lights must be the same, giving off the same colour, size and shape light.
Your headlight aim for both full beam and dipped beam should be below the horizon to ensure it doesn't dazzle other drivers.
Horn: 
Your horn must give off a continuous, uniform note and must be loud enough to be heard by nearby road users.
Battery: 
Your battery must be securely in place and must not be showing any sign of leaking electrolytes.
Electrical Wiring:
The wiring must be secure and not damaged at any point where it may be likely to detach or short circuit.
Cars with a Tow Bar: 
If you have a tow bar on your car, this needs to be correctly connected to ensure it can connect with your brake lights. The tow bar must also be a good condition.
Steering:
The MOT tester will check that the steering wheel is in good condition and is secure. They do this by pushing the steering wheel in different directions and checking for signs of damage and wear and tear.
Suspension:
When checking suspension components and shock absorbers, the testers are looking for excessive damage including corrosion, distortion and fractures.
Brakes:
Did you know that almost 10% of MOT tests are failed due to brake issues? Your pedals, brakes and levers should all be in good condition with all the relevant lights working. The tester will then do a brake performance test to check brake efficiency.
Tyres and Road Wheels:
Firstly, your tyres must be suitable for your vehicle. The tread depth needs to be at least 1.6mm and the MOT tester will make sure that there aren't any cuts that are bigger than 25mm, as well as check for bulges, lumps, tears, tread separation or exposure of the cord.
If your vehicle uses run-flat tyres, then the warning light must be in full working order.
Seat Belts:
It isn't necessary, but it is recommended to plug in all your seatbelts before bringing your vehicle in for MOT. This allows you to see whether any of the buckles are having trouble connecting before the test begins giving you time to get any issues repaired.
The tester will need to ensure that all of the seatbelts, including the attachment and adjustment fittings, are the correct length and are all in working order. You can test your seatbelts at home by simply giving them a quick, sharp tug – you should be able to feel the resistance. If not, get in touch with us straight away!
Body:
Now it's time to give the car's body a once over. The tester will be inspecting the full body, including the chassis, engine mountings, seats, bonnet, doors and boot. Each of these areas must not be showing excessive signs of corrosion and absolutely must not have any sharp edges that could cause injury.
Registration Plates:
You must clearly display your registration plate at the front and rear of your car. They must be clean, clear, and legible enough for someone to read from 20 metres away. On top of that, the characters on the plate must be easily distinguished, and the spacing must be as follows AB12 CDE.
VIN:
The VIN is the Vehicle Identification Number that must be displayed on all vehicles. Don't worry if you have never seen this before – they are sometimes quite subtle. You can usually find your VIN on the inside of a door, or on the VIN plate.
Speedometer:
Your Speedometer must be securely fitted and it must have a slight glow coming through to illuminate the dial. You won't fail your MOT if the glass is cracked, as long as you can still read the speed.
Exhaust System:
The exhaust system needs to be secure and without any leaks. If when your car was first made it came with a catalytic converter, it must still be there.
If you have noticed any strange rattling or unknown noises coming from your exhaust system while your car is running, you should let the garage know as there may be an issue that needs addressing before you have your MOT test.
Emissions:
Your vehicle gives off carbon monoxide and hydrocarbon emissions and these must fall within the legal limit. The MOT tester will use a gas analyser probe to test the smoke being emitted from the exhaust. They will also check to see whether there is an excess of smoke being emitted – this could end in an MOT failure.
You can support the emissions test by topping up your engine oil and fuel levels before the test.
Mirrors and Wipers:
You must have a clear view of the road whilst driving. Both your rearview and wing mirrors must be secure and offer adequate views of the side and rear of the vehicle. Your wipers and washer fluid must be able to clear enough of the windscreen to provide the driver with an acceptable view of the road.
We advise checking for cracks or damages to your mirrors that lower visibility and getting these fixed before your MOT test is due. You can also give your wipers a quick check-over to ensure they don't have any signs of damage.
Windscreens:
The section of the windscreen that is directly in front of the driver shouldn't contain any damage or obstruction to their view that is larger than 10mm. Outside of this area, but still within the swept area of the windscreen, damages and obstructions aren't allowed to be any larger than 40mm.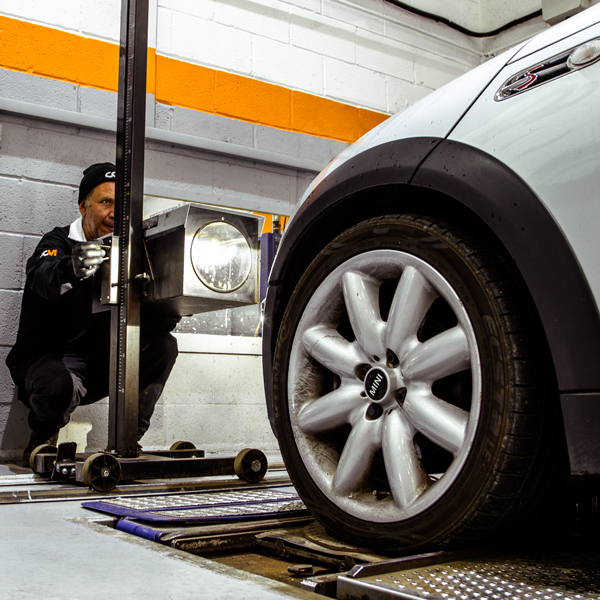 When to get an MOT test
If you are lucky enough to have a brand-new vehicle, you can relax as you don't need an MOT test until your car turns 3 years old. Your first test will need to be booked for the date of your car's registration, and then it will need to be retested every year on the anniversary of its last test.
If your car is already older than 3 years, then you need to get an MOT every year.
You can book your MOT test here up to a month (minus a day) before it is due and still keep the original renewal date. For example, if your MOT is due on the 15th of June, you can book your MOT test for the 16th of May and keep the same renewal date.
How to know when an MOT is due
If you are unsure when your MOT is due, don't worry. It's really easy to check! Just go to the Direct.gov website where it will ask you for your registration number. Type this in, check the details to make sure it is the right vehicle and voilà! This is a handy tool to have as it will also tell you when your vehicle tax expires.
If you are a CCM customer, we can send you email and text reminders for when your MOT is due, taking all the worry off your shoulders.
Can I drive without an MOT?
In simple terms, no. The only time you are allowed to drive your vehicle without a valid MOT certificate is if you are driving the vehicle to an already booked MOT test. If your tax has also expired, you won't be able to renew your vehicle tax without an MOT.
If you don't plan on driving your vehicle you will need to keep it off the road and declare it as SORN (Statutory Off Road Notification). Remember, the vehicle needs to be physically off the road or you can be landed with £1000 fine.
What to prepare for your MOT test?
There are a couple of quick fixes that you can do to not only make your vehicle more likely to pass but to also make the test easier and quicker for the tester to perform.
A basic nicety if you are taking your car to a garage – keep it clean! We don't need it to be sparkling, but testing a car that is filled with empty takeaway containers and the like is never an enjoyable experience. A tester can refuse to complete the MOT if the car is in a real state. Our tips – just remove anything that doesn't need to be there. This includes your boot space too!
Number plate visibility is checked so if you have the time, give these a quick wipedown so your registration can be easily read
How are your windscreen wipers? Any tears will cause a failure. You can easily get these replaced before your test.
Do all your lights work? Park in front of a window or ask a friend to help you check each one.
Check your tyre tread. You can do this without any tools and just a 20p coin. Place the coin into the tread groove in the tyre. If you can't see the outer band on the coin, you're above the minimum 1.6mm requirement. If the coin is still visible, you need to urgently see a tyre specialist to get them replaced. We are an official partner of Black Circles so you can order your new tyres online and we'll fit them for you.
Refresh all levels under the bonnet. Checking you have enough oil and screenwash is super easy, and something we can all do. If you are unsure which oils or fluids you need, you can speak to our team or bring your vehicle in and we'll do it for you.
Does the horn work? The easiest and quickest check, give the horn a little toot to make sure it is still working.
Do you have any cracks in your mirrors, or are any of them loose and wobbly? Mirrors need to be secure so that you can use them properly.
The VIN (Vehicle Identification Number) in your V5C logbook should always match what is on your car's bodywork. These are usually printed from the outside at the bottom of the windshield on the driver's side or on the door sill. This printed VIN must be legible. If there is anything disrupting the view, be sure to wipe this away.
How long does an MOT take?
Roughly, an MOT takes around 40-50 minutes to do. If it's a pass, you can be on your way and your MOT certificate is uploaded straight to the DVSA website so you don't need to worry about keeping it safe.
If there are repairs that need doing to get your vehicle passed this will obviously take longer and your service advisor at the garage will be able to give you an estimate. Luckily, we can usually get repairs done the same day and if you need to shoot off, we have a range of courtesy cars available for you to borrow at no extra cost.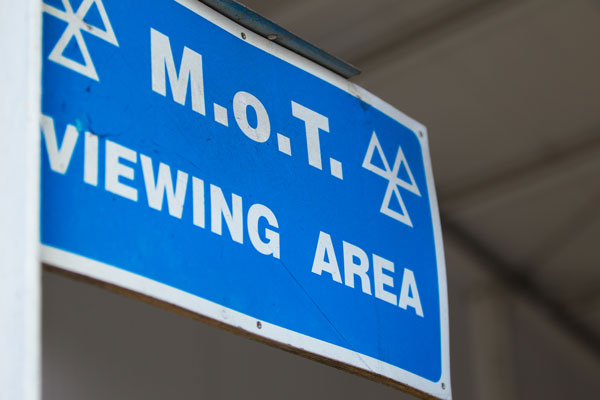 MOT Exemptions
The only time that a car is exempt from getting an MOT is if the car is under 3 years old or over 40 years old unless it has had any substantial changes.
MOT fails and defects
A fail or a defect on your MOT test isn't the end of the world.  In fact, in 2015-2016 the fail rate for cars, vans and passenger vehicles with up to 12 seats was 36.8% so it is actually, pretty likely that you will fail. Below we have listed the most common reasons that vehicles fail their MOT. This data is based on the cars and vans tested between April 2017 and April 2018.
| MOT Defect Category | % of Defects |
| --- | --- |
| Lights & signals | 29.6% |
| Suspension | 20.2% |
| Brakes | 17.2% |
| Tyres | 10.4% |
| Driver's view | 8.7% |
| Fuel & exhaust | 5.4% |
| Steering | 3% |
| Seatbelts | 2.2% |
| Body | 1.9% |
| Registration & VIN | 0.9% |
| Wheels | 0.5% |
What if your car fails its MOT test?
There are three different categories for defects – dangerous, major and minor. If you have a dangerous or major defect, that is an automatic fail. You are not able to drive your car until the issue has been fixed. An example of a dangerous defect is if your brake lights are not working.
Dangerous and major defects should be repaired as quickly as possible.
You are able to pass your MOT with minor faults although these should be looked into and repaired. Minor defects are issues that won't fail the MOT but should be looked into. A vehicle can have multiple minor defects and still pass its MOT.
At CCM, we are able to repair MOT failures on-site and will be able to provide you with an accurate quote straight away for the work needed. However, you do have a few options when it comes to repairs.
Firstly, you can keep your car in the same garage and ask them to do the repairs. This is definitely the easiest one as if the repairs are relatively quick to fix, your car could then be retested the same day.
You can also choose to take your car to another garage to get the repairs done if you wish.
MOT retests are usually free, however, if you take the car away from the first garage and don't return it within 10 days, they will need to charge you the full price of an MOT for the retest. You could choose to have the retest done at the second garage but they will also need to charge for a full MOT as technically, this is the first MOT they are doing on this car.
Can you drive with a failed MOT?
Yes, but only if your current MOT certificate hasn't expired. You could drive to another garage to get your repairs done, but as soon as your current MOT certificate expires you won't be road legal. If you continue to drive your car without a passed MOT you can get into trouble. Police use ANPR which can see if any car has tax, MOT and insurance. If you don't have a valid MOT, you can be prosecuted for this.
What are MOT advisories?
Minor defects and advisories are not the same things.
A minor defect is a defect that is not severe enough to fail the test but should be repaired soon.
Advisories highlight areas that are not yet defective but are usually a 'wear and tear' item so will soon become defective and need replacing. This could be something like the tyre tread is getting close to the minimum tread depth. You won't fail the MOT, but this should definitely be looked into as it will get worse over time.
What to bring for your MOT test?
If you are taking your car for its first-ever MOT, or its first MOT since you have changed the registration plates, you will need to make sure you have your car's V5C logbook with you. For any other MOT it's easy, just bring your car! You can take your previous MOT certificate with you if you wish however, all MOT records are now stored on an online database so the garage will be able to access this if they need to.
Can you fail an MOT test on tyre pressure?
Previously no, however in 2015 the rules were changed. Now if your car is displaying its TPMS (Tyre Pressure Monitoring System) light, it will automatically fail its MOT. If your tyres are over or underinflated, this can also be a fail so we strongly recommend checking your tyres before your MOT test.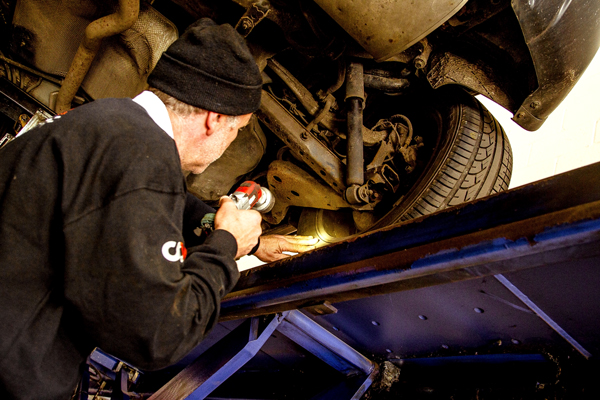 Can ANPR detect no MOT?
Yes, it can, along with checking your road tax and insurance details. If you are scanned by an ANPR camera they will be able to see that your car shouldn't be on the road. You can be caught by static roadside cameras too.
Can I tax my car without an MOT certificate?
As all MOT certificates are now stored on the government's database, you don't physically need your certificate with you to get your road tax. You do however need to have a valid certificate. If your car doesn't have a current MOT certificate, you won't be able to tax your car meaning that you can't legally drive. You are only allowed to drive your car without tax and MOT if you are driving to an MOT station for a pre-booked appointment and you have a confirmation letter to prove this.
What happens if you miss your MOT?
If your MOT certificate has expired, you aren't legally allowed to drive your vehicle on the road, and being caught without an MOT could land you with a £1,000 fine. Not only this, but driving without an MOT will invalidate your insurance policy so if you were to have an incident, your insurers won't cover you.
Can the police tell if your MOT has expired?
As your MOT, tax and insurance details are all stored on the central databases, the police can see this whenever they scan you. Therefore, they can easily spot cars without an MOT and are able to pull them over for this.
Is my insurance valid without MOT?
No, your insurance is not valid without an MOT. This doesn't matter how long you have left on your policy, or how long you have been a customer of this insurer. Your insurance is immediately invalidated as soon as the MOT expires.
We think that just about covers all the frequently asked questions we get, however, if there is anything you are still unsure about, please don't hesitate to contact our team who will be able to help you.
Is your MOT due?
Contact our team to get your MOT booked