If your Porsche Cayenne propshaft is not operating efficiently, it will let you know immediately with plenty of noise. Propshaft noises are usually caused by a worn centre support dampener or a faulty centre support bearing.
Why do Cayenne Propshafts fail?
We first started to see these propshafts come in for repair in 2008. Some of the vehicles had as little as 50,000 miles before the propshaft failed. Not great for such a high-end brand! Unfortunately, the fault is standard for the Cayennes and the carrier bearing simply is not strong enough for its application and gives up at around the 50 – 70,000 mile stage.
Propshaft noises and possible causes to be aware of:
A clunking or thumping sound
When going from acceleration to deceleration or vice versa, if you hear this noise it's possibly due to a worn centre support bearing dampener or diaphragm. A broken or worn centre support bearing dampener will allow for the shaft to move up and down with changes in drive line torque. This movement creates a loud clunking or thumping sound and will make for an uncomfortable ride. A broken centre support bearing dampener is one of the most common failures on the Cayenne drive shaft.
A whining sound
This is sometimes caused by a dry, worn centre support bearing. Since this bearing makes complete revolutions, it will make a different sound than a bad centre support bearing dampener. A high-pitched, more constant whine will usually come from a faulty, broken or worn centre support bearing.
Grinding and squeaking sounds
This noise is often caused by a worn CV joint. The joints become dry, causing the rollers to wear. The un-lubricated, damaged rollers then produce a grinding or squeaking sound as they operate on the scored cap and cross surfaces.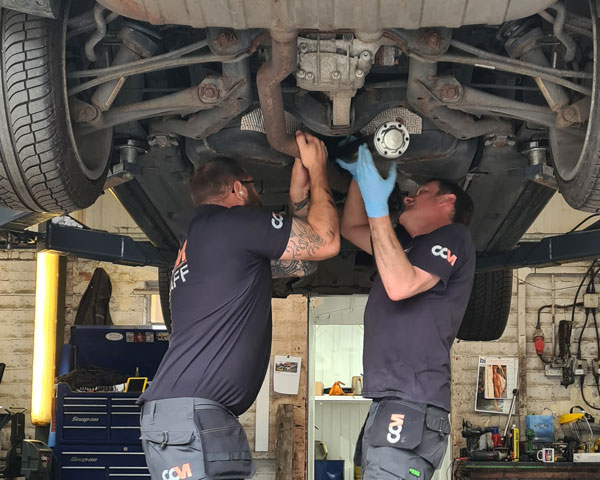 Porsche Cayenne Propshaft Types
There are only 2 different-sized shafts – long and short. The measurements can be easily taken by measuring the shorter section of the shaft. Take a measurement from the inside edge of the bearing to the inside edge of the rear mounting spider. This measurement needs to be done once the propshaft has been removed from the vehicle.
Short shaft – 22cm from the inside edge of the bearing to the inside edge of the rear spider
Long shaft – 27cm from the inside edge of the bearing to the inside edge of the rear spider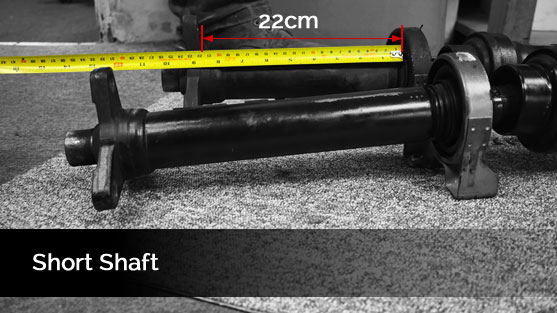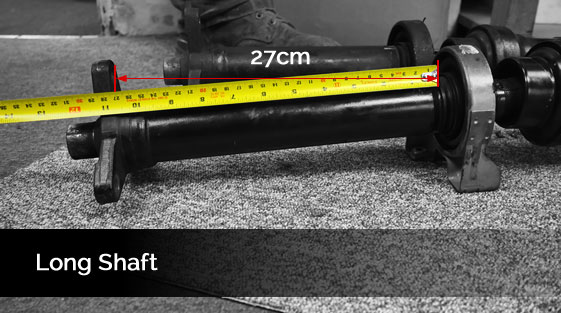 Solving the Porsche Cayenne Broken Propshaft Issue
The fix for these issues is a well-trodden path for us as we have seen so very many of these vehicles. Beware that this is a specialist area and you do not want just anyone dismantling your propshaft.
We hold stock of re-manufactured propshafts for all Porsche Cayenne models at our Gatwick site. Give our team a call and we can book you in for your propshaft repair or replacement.
Porsche Cayenne Propshaft Postal Service
If you aren't close to our Gatwick site and desperately need a new propshaft, don't worry. We can still help with our postal service.
Find yourself a competent local garage and ask them to remove your propshaft in one complete section. Then package up the prop and post it to our Gatwick address. When you speak to our team to book this in, we will provide all the details you need on how to post this to us.
Once we have received your propshaft, we endeavour to replace it the same day so it can be collected and on its way back to you by the next working day. You can then instruct your local garage to refit the prop for you. As a rough guide, your local garage should charge you for up to 3 hours for the removal and refit of your prop.
Porsche Main Dealer Pricing for Replacement Propshaft
| | |
| --- | --- |
| Parts | £738.55 |
| Labour | £90.00 |
| VAT | £165.69 |
| Total | £994.26 |
CCM Pricing for Replacement Propshaft
| | |
| --- | --- |
| Parts | £375.00 |
| Labour | £90.00 |
| VAT | £93 |
| Total | £558.00 |
Trusted Porsche Cayenne propshaft fitters
Book your repair online today
Exceptional service and great facilities. Went very late Friday afternoon for a diagnostic on a thumpy propshaft. CCM assessed the issue, had the parts and were willing to replace it right there and then! Fantastic garage, Nathan & Callum were brilliant, efficient, very knowledgeable and professional. Great experience, exactly how you hope a garage would be, honest, upfront and fair - the real deal.
These guys are legendary! Managed to fit me in on Friday afternoon with just half an hour notice and repair my drive shaft in less than 15mins. I have never in all my days seen such amazing service from any garage! I even had time for a cup of tea in their waiting room. Will 100% be using CCM going forward for all my vehicle needs. Cheers guys🙏👍
A first class company very experienced in what they do. From the first phone call to Amanda, her knowledge and experience enabled me to get my propshaft was repaired without fuss by Andy who also is a valuable knowledgeable member of the team. Well done all.
What a great service had a my bmw 6. Diagnose was spot on new prop shaft fitted. Mot and tyres done all with out any problems plus alloy wheels welding and great communications from all the staff would definitely recommend. Thank you
Brilliant customer service and communication from the team who did a first class job of replacing my propshaft. I would recommend them to anyone.
Both my husband and myself have been coming to CCM for about 4 years and have found the service excellent and staff extremely friendly and efficient. Have recommended to numerous friends and will continue to do so!
Best garage I've ever used. Friendly, professional, feedback was first rate. Thanks to Amanda and the whole team. A pleasure and I will be seeing you next time my car needs a service
Great service and my car was repaired within 48 hrs after my query.
Was greeted by a lovely lady named Amanda who located what I needed, quoted and booked me in all in the time that was convenient for me and most importantly with a smile and reassurance.
Fabulous service.