At CCM we know Land Rover really well. The Jaguar – Land Rover marque is one of the key manufacturers for which we concentrate our training, equipment and diagnostic skills.
Examples of Land Rover Range Rover work we cover
Trusted Land Rover experts
Speak to our team to discuss your needs
For many customers this all comes down to a fast turnaround, CCM is faster!
From talking to many customers we know that main dealer turn-around times are based on their convenience and not on yours.
We offer free collection from your home or place of work for local customers and also offer free loan vehicles to keep you mobile whilst we repair or service your vehicle. Get in touch with our team to see how we can help you.
From old to new, CCM welcome all Land Rover and Range Rovers.
Our staff have been fixing them all their lives so they are all familiar to us.
If your 50-year-old soft top Land Rover needs a wheel bearing, or your 12-month-old Range Rover needs its first service then we are here to help.
As a company CCM service and MOT literally 100's of vehicles each week.
Every week we will see jobs as simple as a courtesy check to someone's oil level, to an engine rebuild. That is what we do so don't be afraid to ask.
Why not try us, we certainly will do our best to help at a fair price.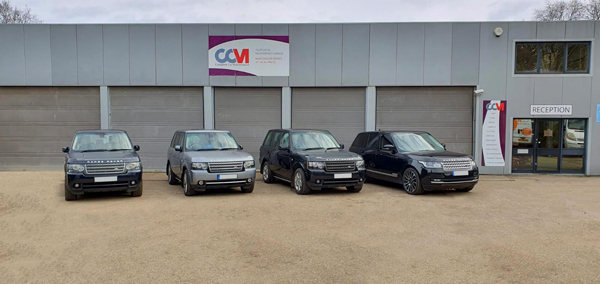 Trusted Land Rover experts
Book your repair online today
Excellent from start to finish. Helpful, friendly, very reasonably priced and very efficient, can't fault them and will definitely be using CCM instead of the usual Range Rover garage I've used before!
Took my Range Rover in for an automatic gearbox flush and service. Received great service. The staff are very friendly and courteous. The work done on the Car was excellent and now drives like new. Overall a great experience and highly recommended.
CCM carried out some work on my Land Rover Discovery 3 and after many years dealing with garages this was a really pleasant experience. Diagnosis pointed to a defective clutch master cylinder; the reasons clearly explained. I checked the car in before 09.00 and was pleasantly surprised by 12.30 to say the car was ready! Really good service well delivered and inspires confidence – I will be back!
Highly Recommended!! I rocked up to get my coolant topped up, but it turned out to be a bigger problem which was spotted straight away. It's not the first time I've used CCM Cranleigh, and it won't be the last. Their reputation is well deserved, they provide a top class honest service to their customers.
This is a very well run garage, friendly knowledgeable staff, who are happy to discuss any problems you may have with your car. Very reasonably priced services as well. I will definitely be using them again next time I need any work done on my car.
I've been going to CCM for many years and they are always incredibly excellent on service, helpfulness and my car is always in tip top condition. They have an amazing team of staff that are always there to help me when I have been in a crisis! Thank you for being the best car service company
I started using CCM to service my car a few years ago on the recommendation of a friend. They are a highly dedicated professional team, unfailingly friendly and enthusiastic. They really value their customers and never oversell any service. I strongly recommend them.
CCM are fantastic. Always great quality work on the car. Excellent communication. Honest assessment of what's needed. I always feel safer driving after they have serviced or repaired my car.