You run the school… we'll fix your bus
Operating your minibus requires a high level of safety reporting and unrivalled support from your chosen safety and maintenance supplier… look no further than CCM.
Check the links below to find out more, then call us to arrange a no-obligation visit from a member of our team.
What the DVSA say...
The DVSA recognises that operators of passenger carrying vehicles (be that a minibus or a car) will not get everything right all the time. However, they do want you to be vigilant and responsible, and to be able to display this to the DVSA – not to mention your insurer. The driver and the employer can be fined or prosecuted and your vehicles may be prohibited.
A good maintenance and safety system
Let's take a look at the key points of a good maintenance system. How will you score?
Keep your minibus safe
Book your safety check with CCM today
Keep your minibus safe
Book your safety check with CCM today
At CCM we understand that you need to keep financial controls around your vehicle costs. That's why we offer fixed prices for all routine and scheduled work, with account facilities for schools, colleges, councils, businesses and charities.
Our team will work with you to identify the correct schedules for each vehicle and pre-agree a work package and price levels.
For unforeseen works, we will agree on an auto authority budget that allows us to safely maintain your vehicle, with fast turnaround repair processes and limited vehicle downtime.
At CCM we are often asked if we are authorised to test minibuses. Well, we are glad to say yes.
Whilst there is some confusion about the need for PSV driver licences, the guidance from DVSA is actually very clear when it comes to the MOT test for these vehicles. Duly, during a recent training session, we asked our local DVSA Regional Manager if he could clarify, he directed us to the test class information contained within the MOT Testing Guide.
First, let us look at a passenger carrying vehicle with 9 – 12 seats, these are classified as Class 4 for MOT testing Purposes.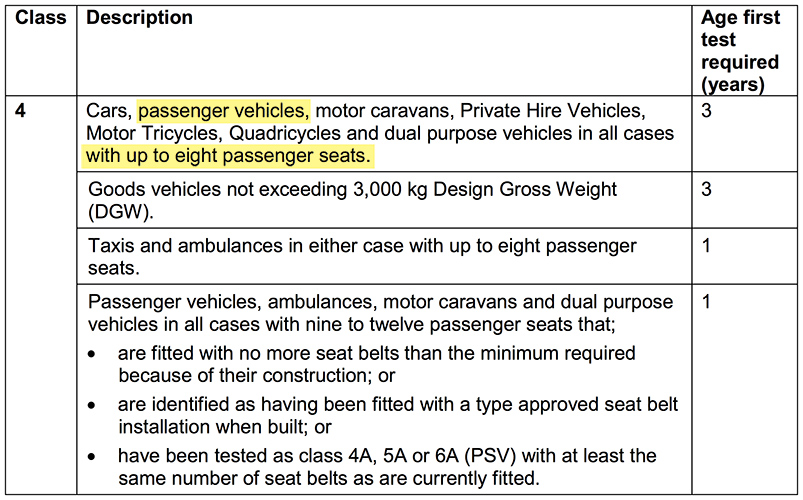 Now let's look at the more common larger minibus, with 13 or more passenger seats, which are classed as Class 5 for MOT testing purposes.
CCM operates two Class 5 MOT testing sites based at our Cranleigh and Gatwick depots.
At these sites, we can offer MOT testing, all service and repair and routine checks with full backup and support, coupled with fast turnaround times.
Our Head Office site in Ewhurst also caters for repair and safety checks.
Keep your minibus safe
Book your safety check with CCM today