It's a common misconception that only the dealer or the dealer brand that you bought your Electric Vehicle from can fix it but that's not the case. Unlike other garages that have buried their heads in the sand, we understand that this is a changing world and that EVs will soon be the norm.
Our team at CCM have been trained to a high level to deal with all types of vehicles and our workshops are tooled with all the equipment we need to action Electric Vehicle repairs. Whether you have a top of the range Tesla, or a second-hand Nissan Leaf – our team of trained specialists are ready to service your EV. Don't forget, hybrid cars still have combustion engines that will require regular maintenance. Give us a call or contact us to discuss your issue and receive a free, no-obligation quote.
What issues you should expect with an Electric Vehicle?
Electric car maintenance is much easier than what we expect for standard petrol or diesel engine cars as there are considerably fewer parts under the bonnet. Studies have shown that Electric Vehicle owners are spending 50% less on average on their maintenance bills. This is great news for EV owners as they will see their repair bills drop massively, making their choice to go electric even more worthwhile.
That being said, an MOT will still be required each year after the car turns 3, general servicing is still recommended and there are parts that will need replacing or repairing.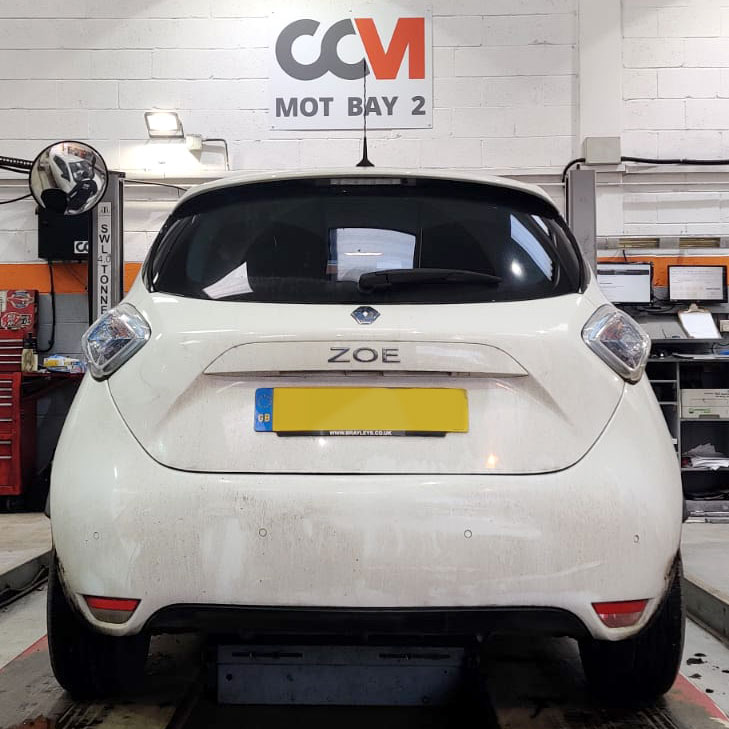 Unfortunately, having an Electric Vehicle won't save you any money on your tyres. These will still need checking regularly to ensure that the tyre pressure and tread are up to scratch and that you don't have any unwanted lumps, tears or punctures. We are an official premier partner with BlackCircles so you can easily order your tyres online, get them delivered to any of our locations and we can fit them for you.
Whenever getting your tyres changed, we always recommend booking a four-wheel alignment too. This is to ensure that your tyres are all perpendicular and parallel to each other. If your tyres aren't correctly aligned, it will cause excessive tyre wear as well as steering and tracking issues.
You may be thinking that you're sure Electric Vehicles use regenerative braking and while that is true, they still have brake pads and discs. The regenerative braking is used for the most part, however, towards the end of a braking period (like when pulling up to red traffic lights) the classic friction brakes take over. In emergency braking situations, only the friction brakes will be used and brake fluid is required to engage the brakes.
A brake fluid service ensures that your brake fluid is clean and uncontaminated. Contaminated brake fluid will drastically reduce braking efficiency and most manufacturers recommend having this service done every 2 years or 24,000 miles.
At best, this will improve your braking distance and performance, at worst, leaving your brake fluid unchecked will cause brake failure. We can't of anything scarier than pressing the brake pedal and nothing happening! Our team can have your brake fluid service done in under an hour and for only £55.
Ready to book?
Trust our team with your electric vehicle
Because of the high temperatures your battery will reach whilst running, it's important to ensure that you have enough coolant to stop it from overheating. Different makes recommend different coolant system flush intervals but you should be able to see when yours is due by looking in your manual. If you are still unsure, give us a call and we can advise.
Don't be fooled, this isn't the same as your Brake Fluid Service. While regenerative braking uses the electric motor to slow down your vehicle and pump some power back into the battery, your brake pads and discs will still be used and will, unfortunately, eventually wear down over time. Granted, this won't be as quickly as you would see in a non-electric vehicle but they will still need checking over time. If you ever notice pulling to one side or any strange noises whilst braking then you should get your car booked in as quickly as possible!
This is the most expensive and most important part of your car so it is imperative that we care for it. Although EV car batteries use different technology to the batteries you'd find in your phone or laptop, they can still face issues such as battery degradation. Regular servicing allows the experts to review the battery is still in its best condition.
Miscellaneous – wipers, pollen filters etc.
Of course, there's then the usual wear and tear items that will need replacing over time such as your windscreen wipers, pollen filters and air-con re-gassing. We are able to assist you with all of these and most of them are very quick and easy fixes. If you need any advice, just give us a call!
MOT tests for electric vehicles
All vehicles on UK roads need to have an MOT test every year, including electric vehicles. If your car is brand new, you don't need to worry about your MOT test. These only start after the 3rd anniversary of your registration date.
The good news is that because EVs don't pass out any emissions, this will be removed from the MOT test and the chances of repairs being needed are minimal due to the much smaller amount of parts included with electric cars. Fewer parts = fewer things to go wrong!
Models >>
Most garages are a little behind the times and haven't put their mechanics on the necessary training courses to learn about electric car repairs. We have invested time and money into making sure that we are able to complete the work on any vehicle that comes to us, be that a hybrid or fully electric car.
Here's a list of just some of the makes we are more than comfortable working with. If you don't see your make there, don't worry! Just give us a call and we are sure we can get your electric car repaired and back on the road in no time at all.
Jaguar
Tesla
Nissan
Hyundai
Kia
Honda
Porsche
Polestar
BMW
Volkswagen
Vauxhall
Mini
Peugeot
Mercedes-Benz
Audi
Volvo
What we do >>
Ready to book?
Trust our team with your electric vehicle
Been using CCM Gatwick for years and have always been happy with their expert and fair MoT evaluations. Recently, for some unfathomable reason, I decided to try elsewhere and immediately regretted it. After swinging by CCM on the way home and explaining the situation, the lads managed to fit me in the following day. I won't be straying again!
Went to CCM for some advice on my vehicle. I booked it in on a Wednesday, in less than 2 hours they had diagnosed the problem, within another 3 hours the part had been ordered,fitted and i was there collecting the vehicle. Fantastic service and would highly recommend.
I cannot thank the CCM team enough for its timely, efficient and courteous attention to a new customer; plus outstanding and value for money service. I would recommend this garage highly. CCM has redeemed my confidence in independent garage services.
I've used CCM for some time and was always pleased with the Rusper branch so I had no hesitation in using CCM Cranleigh and wasn't disappointed with their service, they have completed several repairs now and I'm always happy with their quality work and honesty.
I started using CCM to service my car a few years ago on the recommendation of a friend. They are a highly dedicated professional team, unfailingly friendly and enthusiastic. They really value their customers, and never oversell any service. I strongly recommend them.
CCM are fantastic. Always great quality work on the car. Excellent communication. Honest assessment of what's needed. I always feel safer driving after they have serviced or repaired my car.
Both my husband and myself have been coming to CCM for about 4 years and have found the service excellent and staff extremely friendly and efficient. Have recommended to numerous friends and will continue to do so!
Very professional and efficient garage, well worth a journey to get to there. Realistically priced.

How all garages ought to be!