At CCM we understand how a surprise MOT reminder can come as quite a shock to you. It's not the most difficult thing to do, but it can be a pain to organise especially if your life is already hectic enough. Never fear! We are here to do what we can to make this easier for you.
Not able to get your car to our garage? Not a problem, we offer a free collection and drop-off service for the local area. Need to rush off to work? We've got you covered with one of our many free courtesy cars!
We have 26 technicians and MOT testers across our MOT centres in Crawley, Cranleigh and Ewhurst and our team has over 30 years of experience so we are sure we will be able to get your MOT test sorted for you. Even if you have left it until the very last minute, we can usually get a same-day MOT appointment booked for you.
If you want to see everything that is checked in an MOT (trust us, it's a lot) then click here. This blog post covers every check required, how you can prepare, common fail items and much more!
Class 1 and 2 MOTs cover motorcycles. Class 1 includes motorbikes with an engine size up to 200cc and class 2 includes motorbikes with an engine size over 200cc.
Motorbike MOTs can only be performed at our Gatwick site.
Our class 1/2 MOTs are £29.65.
Why Should I Get A Car Service?
One thing we always recommend to our customers is to get a service alongside your MOT. Yes, it's a bit more money to spend but it is totally worth it in the long run.
The MOT test ensures that your car is road legal and safe. So, no jagged edges, broken bulbs, faulty seat belts – anything that could be considered dangerous to you or other road users. It may be a surprise to many that it doesn't check your engine, clutch or gearbox, which most would say are the most essential parts of a car!
The MOT test only tends to flag a problem when it already needs to be fixed. A service, on the other hand, cares for your car and can stop future issues from arising. Like when your dentist tells you to floss each tooth if you want to keep them all. Your car has plenty of parts that require regular checking and topping up, and each of our service levels covers this for you.

Your cars service manual is the key to keeping your vehicle in good repair – written by the people who designed and built your car
An un-serviced vehicle can cost more:
In fuel consumption
Potential major repairs
Lubricating properties deteriorate
Items wearing quicker e.g. tyres
Lack of oil can cause serious damage
Clogs in pipes make oil unable to pass-through
Not all home mechanics have the tools or knowledge to perform the 50+ steps and system checks required
However, a serviced vehicle:
Maintains the value of your vehicle
Lowers running costs
Maintains fuel efficiency
Better performance & reliability
Highlights any future issues so you can repair them before needing a full replacement
Service book stamped for improved resale value
Prevents dirt and dust causing major mechanical issues
Prolongs engine longevity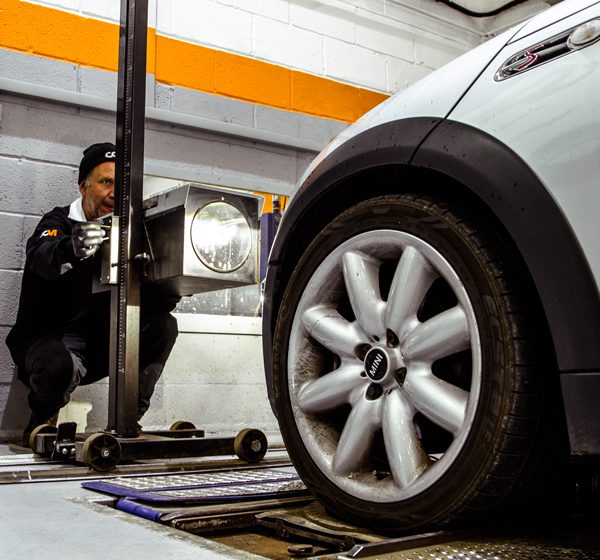 Car manufacturers now recommend that vehicles are serviced annually, however, there are some age and mileage milestones you need to be aware of. These will be mentioned in your vehicle's handbook and the onboard information systems.
When your service light appears on your dash, it's best to get this booked in right away to prevent a hefty repair cost later on.
Poor maintenance average repair costs:
Timing belt replacement = £446.72
Engine replacement if the timing belt fails = £2,000 – £4,000
Basic oil & filter change = from £165.18
Turbo replacement due to poor oil condition = £600 – £1000
Can you see how prevention is better than cure here?
The average cost of an unexpected repair on a used car is £603, according to data from an aftermarket warranty firm. Whereas the average cost of a basic service is £149.92 or £376.78 for a full service.
30+ years experience
Book your MOT & service here with CCM
Dealing with CCM was easy and a delight. I popped in to ask a few questions in preparation for an MOT. The mechanic came straight out answered my questions and gave me sound advice. The experience was great and they deliver a first class service. Well done.
Great service from CCM. Booked my car in for a routine service and MOT and used their free collect and deliver facility. Everything worked like clockwork and my car came back a lot cleaner than it went in! Would certainly recommend this company.
First visit for a large camper MoT having tried loads of other places. Everyone was super helpful and very impressed with the set up. Will be coming back.
Very professional and friendly garage which I would highly recommend. I visited for my MOT and felt assured that I was being valued as a customer and was in safe hands with this service centre. Thank You I will be back.
Fourth year running CCM have done my MOT and my service and I'm so happy with the service. Big thanks to Sean who did the collections, Sharon who organised the paperwork and Steve who coordinated the MOT. I can't thank them enough for looking after me so well. Best garage
I recently had the pleasure of having my car MOT at CCM. I am delighted to share my exceptional experience. From start to finish, the level of professionalism and expertise displayed by the team was truly commendable. Special mention to Amanda who was extremely helpful and friendly